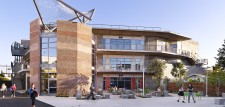 MIAMI, December 21, 2017 (Newswire.com) - COVERINGS ETC is proud to be featured on the walls of the Crossroads School for Arts & Sciences. Eco-Cem was chosen as one of the sustainable materials for the school's exterior wall cladding. The Natural Grey Eco-Cem was thoughtfully used to create a modern aesthetic with a subtle industrial look.
Eco-Cem is engineered from 80 percent recycled portland cement mixed with fly ash that has been saved from contaminating waterways, plus 20 percent recycled wood pulp. It contains no resins, no epoxys and zero VOCs. Eco-Cem is a breathable material that improves indoor air quality. Rectified and calibrated, it's easy to install and simple to maintain.
I'm very happy to see the increase in use of fiber cement in interior and exterior applications. Fiber cement is a classic product.

Ofer Mizrahi, Founder
Crossroads School provides a unique K-12 program built on a progressive, developmental model of education. The school was built upon five basic commitments: to academic excellence; to the arts; to the greater community; to the development of a student population of social, economic and racial diversity; and to the development of each student's physical well-being and full human potential.
Coverings ETC was founded by designer and real estate visionary Ofer Mizrahi in 1998 as an innovative source for natural, recyclable and sustainable material concepts for hard surfaces. Coverings ETC is a member of the United States Green Building Council (USGBC) and is committed to seeking out interesting and exciting new environmentally friendly materials and solutions for projects adhering to sustainable design and bio-architecture. The ECOVERINGS® award-winning collection is designed using naturally occurring and recyclable materials and/ or is manufactured with the concern for the environment and conservation of natural resources.
For more information contact info@coveringsETC.com or visit www.coveringsETC.com.
Source: Coverings ETC
Share: