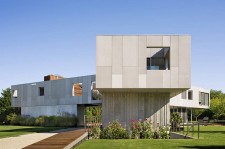 MIAMI, February 16, 2018 (Newswire.com) - The Long Island beach home designed by Levenbetts Architects features Covering Etc's very own fiber cement wall cladding. The entire second floor of the home's exterior is covered with the Windsor Gray color from our Eco-Cem line. It is a great choice for future-friendly homes because it is a recycled product that helps residential, commercial or industrial projects meet LEED criteria. Eco-Cem is mold and mildew resistant as well as freeze resistant, and is non-fading, making it suitable for outdoor use. "In general, we like anything cementitious, so we love cement board," said Stella Betts, one half of the Levenbetts duo. The use of different panel sizes in the home's design gives it a pattern-like facade which enhances its character, making the overall minimalist look exceptionally interesting and unique.
Eco-Cem is engineered from 80% recycled Portland cement mixed with fly ash that has been saved from contaminating waterways and 20% recycled wood pulp. Eco-Cem® tiles and slabs come in 12 standard colors and a natural finish that gives an industrial yet warm look. No resins, no epoxies, zero VOC's Eco-Cem is a breathable material that improves indoor air quality. Rectified and calibrated, easy to install and simple to maintain.
In general, we like anything cementitious, so we love cement board.

Stella Betts, Architect and co-creator, Levenbetts Architects
CoveringsETC was founded by designer and real estate visionary Ofer Mizrahi in 1998 as an innovative source for natural, recyclable and sustainable material concepts for hard surfaces. CoveringsETC is a member of the United States Green Building Council (USGBC) and is committed to seeking out interesting and exciting new environmentally friendly materials and solutions for projects adhering to sustainable design and bio-architecture. The ECOVERINGS® award-­winning collection is designed using naturally occurring and recyclable materials and/ or is manufactured with the concern for the environment and conservation of natural resources.
For more information contact info@coveringsETC.com or visit www.coveringsETC.com.
Source: CoveringsETC
Share: