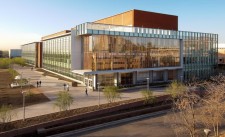 Miami, FL, January 18, 2018 (Newswire.com) - COVERINGS ETC is delighted that our Eco-Gres Asia tiles have been selected as one of the University of Arizona's sustainable building materials in the construction of their new Bioscience Research Laboratories. Eco-Gres Asia was chosen in the Belmont Black color, this is a minimalist and elegant choice for the modern new building which is currently under construction.
Eco-Gres Asia is highly sustainable, easy to install and easy to maintain. The tiles are high impact and slip resistant as well as scratch, stain and fade resistant. There is no need to seal or wax. Eco-Gres Asia can be used in floor and wall applications with highly demanding technical requirements and in all sort of heavy traffic areas.
Eco Gres Asia is a perfect fit for the University of Arizona's new contemporary and sustainable building design.

Ofer Mizrahi, Founder
The University of Arizona's Bioscience Research Laboratories will provide research facilities to support interdisciplinary research in many health science disciplines. This new facility will encourage collaborative translational research that will advance understanding of the molecular basis of human health, aging, and disease.
CoveringsETC was founded by designer and real estate visionary Ofer Mizrahi in 1998 as an innovative source for natural, recyclable and sustainable material concepts for hard surfaces. CoveringsETC is a member of the United States Green Building Council (USGBC), and is committed to seeking out interesting and exciting new environmentally friendly materials and solutions for projects adhering to sustainable design and bio-architecture. The ECOVERINGS® award-­winning collection is designed using naturally occurring and recyclable materials and/ or is manufactured with the concern for the environment and conservation of natural resources.
For more information contact info@coveringsETC.com or visit www.coveringsETC.com.
Source: Coverings Etc.
Share: